Mahatma Gandhi Mahavidhyalya Ahmedpur
Dist Latur (Maharashtra)
GIRL'S NCC UNIT
VISION
       To Empower volunteer youth to become potential leaders and responsible citizens of the country.
MISSION
To develop leadership and character qualities, mould discipline and nurture social integration and cohesion through multi-faceted programmes conducted in a military environment.
Introduction of NCC Wings in the colleges
With a view to contribute to the service to Nation, Society and impart Army training to Youth in future, Mahatma Gandhi College has started National Cadet Corps (N.C.C.) in 1981. College has one unit of NCC under the overall supervision of 7 Maharashtra Girl's Battalian, Aurangabad. The present permitted strength is 53 cadets per unit. The NCC unit of our college is very dynamic and enthusiastic. The cadets have participated in several camps and took initiative in the organization of several activities at the unit level. Apart from the following highlights, the cadets participated in several extension activities organized by the battalian like NCC day celebration, Pulse polio drive, blood donation camp, several campaigns like, Aids Awareness Campaign. In 1981 Major N.S. Kore was appointed as the first ANO of NCC unit. She Stood first in the pre commission Training Courses and Won the D.G. Gold Cane Award in June 1984 . NCC unit is now operative under the able and dynamic leadership of Lt.Dr. A.M. Shinde.
She  has taken charge of NCC as Care Taker in 2007.After Completion pre-Commission Lieutenant and working as Company commander 2010.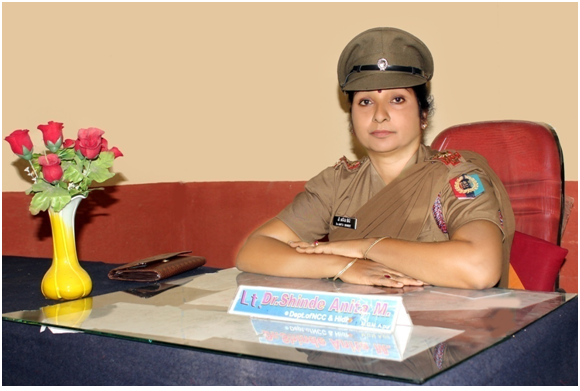 Lt.Dr. Shinde Anita Madhkarrao
Associate NCC Officer
NCC Girls Unit MGM Ahmedpur
The main focus is on following objectives.
To develop qualities of Character, Courage, Comradeship, Discipline, Leadership, Secular Outlook, Spirit of Adventure and the ideals of Selfless Service amongst the Youth of the Country.
To Create a Human Resource of Organized, Trained and Motivated Youth, to Provide Leadership in all Walks of life and be Always Available for the Service of the Nation.
To Provide a Suitable Environment to Motivate the Youth to Take Up a Career in the Armed Forces.
BENEFITS OF NCC
(A) Employment field:-
N.C.C 'C' certificate with 'B Grading' holder cadets are directly appear for SSB in
Indian Army as Commissioned officer.
NCC cadets are given preference in enrollment of soldiers.
'B' & 'C' certificate holders are given preference in state police service.
(B) Academic Field:-
SRTM University offers 05 extra marks to NCC cadets.
2% marks are given to NCC cadets by MAH University.
1% marks are given for admission in medical college.
10 Seats are reserved for admission in Engineering College.
Admission to polytechnic college 15 vacancy is reserved for NCC cadets.
Weightage of 4 marks for admission in ITI
(C) Scholarship for NCC cdt :-
Sahara Scholarship- Rs. 6000.
Cadets Welfare Society Scholarship- Rs. 6000.
Chief Minister Scholarship- Rs. 6000.
DG, NCC Scholarship- Rs. 6000.
Shyam Benegal Scholarship- Rs. 6000.
The NCC Girls unit has made remarkable progress and participated in various activities such as Blood Donation Pulse Polio. Immunization drive, Relief Fund collection, Tree Plantation, National Literacy Campaign etc.
Beside this, the N.C.C. girls unit celebrates the independence Day, Republic Day and N.C.C. Day in a befitting manner.
As a sense of commitment to the society the unit organizes Blood Donation Camps every year on the occasion of the Mahatma Gandhi Jayatni .
Students Achievement
Best District Award in Avhan Disaster Management Programme at Nagpur.
SGT Shinde Preeti & Cadet Kendre Ganga Selected Fyrnig for TSC, Aurangabad.
Cadet Khedkar Jayshri (Firsted AID) 1st Prize in Avhan, Nagpur.
Cadet Waghmare Pooja Best SUO Gold Medal ATC,Aurangabad.
Cadet Bambede Pooja Gold Medal For Group Fyring & Branze Medal in Best Shooter   ATC ,Aurangabad.
UO Ukirde Komal & Cadet Mane Shruti For Fyring Competition Gold Medal in TSC Aurangabad.
 UO Ruikar Pooja Best SUO Gold Medal ATC, Aurangabad.
SUO Namwad Chandarani Selected for TSC, Aurangabad.
 Cadet Honrao Rameshwari Gold Medal for Cross Country Competition in ATC, Aurangabad.