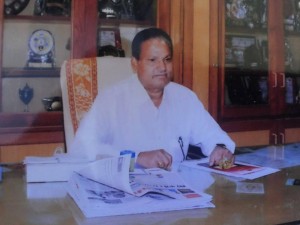 Dr. G. D. Bagde, Principal, Mahatma Gandhi Mahavidyalaya, is presently working as head of the department of Physics at the college and has also been entrusted with the office of the Dean, Faculty of Science, S.R.T.M.U. . He has a teaching experience of over 28 years.
He was awarded with Teacher Fellowship from UGC for completion of Ph.D., for two years. He is recognized as a research guide by SRTMU and presently 04 candidates are working towards doctoral degree; 02 candidates are working for M. Phil. Degree under his supervision.
His field of research is, Semiconductor Thin Films: Preparation, Characterization, Applications and also Vacuum deposition, chemical bath deposition, spray pyrolysis, Electrodeposition, SILAR. The applications on which he worked are Photoelectrochemical Cells, Photoelectrochemical Cells, Solidstate Solar Cells, Super Capacitors, Photoconductor, Ferrites, Nanocrystilline Materials and Sensors.
Honor & Awards:
Honored & Awarded as Young Visiting Scientist of Korea Institute of Science and Technology (KIST) Seol, South Korea (2007-2008), under Brain Pool Programme.
The authorities and Bodies in SRTMU, Nanded:
Dean, Faculty of Science and worked as Senate Member.
Academic Council Member, Board of Examinations member.
Scrutiny committee member.
Member of Board of studies.
Member of faculty.
Chairmen of Ph.D. Viva-Voce Examination in all science subjects conducted by SRTMU, Nanded.
Chairman of B.O.S.
Chairman of Faculty of Science.
Chairman of Research Reorganization Committee.
Member of Board of University Teaching and Research.
Conclave Convener of all Directors, BCUD's and Dean's.
Chairmen of Science Faculty of all Non Agricultural Universities of Maharashtra. organized by Swami Ramanand Teerth Marathwada University, Nanded.
Member of Selection Committee, Subject Expert for Lecturer posts in Electronics of Swami Ramanand Teerth Marathwada University Nanded at:
a) Vasantrao Naik Mahavidyalaya, Nanded .
b) D.S.M. College, Parbhani.
c) Vice-chancellor nominee of selection committee.
Extension activities:
He was invited as Chief Guest of:
Conference on Recent advancements is studies of Metal complexes.
Two days workshop on Understanding the Planet Earth,
AVISHKAR Research festival sponsored by SRTMU, Nanded.
Emerging trends in Biotechnology for modern Era.
Workshop on scope of syllabus in chemistry at UG and PG level.
National conference on Computer science and advances in Information Technology.
State level seminar on Biodiversity of Medicinal Plants – A treasure of India, one day workshop on Chemistry.
National conference on New Horizons in Biotechnology.
The CV Raman Science day program and NSS program.
10 One day seminar on Animal Biotechnology and one day workshop for Physics Lecturer.
Chairman, Science Exhibition Committee.
Subject expert. Science Exhibitions.

Participation and for presentation in the Research Conferences, Seminars and Workshops:

1. Seminar on Radiation Physics and Peaceful uses of Nuclear Energy for Advancement of Electrochemical Science and Technology.

2. Material Science: Trends & Future (MSTF-2000) on Smart Materials, Nanocomposits.

3. Industrial Applications and Devices (DAE).

4. Solid State Physics Symposium, Recent Trends in Composites.

5. Recent Advances in Renewable Energy Technologies (RARE-T-2002).

6. Workshop on Energy Studies.

Research Projects:

Working on Minor Research Project of University Grants Commission entitled, 'Fabrication of Lanthanum Chalcogenide Thin Films by spray pyrolysis'

Trainings

1. Awareness in Computer, organized by Venkateshwara University Tirupati.

Examination Work:

1. Examiner for XII Physics at S.S.C. Board Aurangabad.

2. Paper Setter, Examiner for U.G. Theory and Practical Examination.

3. Chairman, Paper Setter, Examiner for examination of Theory and Practical Panel of Swami Ramanand Teerth Marathwada University Nanded.

4. Joint Chief Superintendent for Theory Examination at:

a) Yeshwant College Nanded.

b) Peoples' College Nanded.

c) N.S.B. College Nanded.

d) Lal Bahadur Sahstri Mahavidyalaya Dharmabad.

e) Mahila Mahavidyalaya Nanded.

f) Lokmanya Mahavidyalaya Chakur.

Field Work:

1. Physics and Electronic Laboratory setup for U. G. classes.

2. Class Project Computer Laboratory setup.

Books published:

Kailasvasi Vishwanathrao Nalge Jeevan Chairtra.

Engagement Social Activities:

1. Arranged two times Blood Donation Camps,

2. AIDS Awareness Camp and

3. Yoga Shibir.